Lost Lands draws thousands of headbangers to Ohio's Legend Valley for an epic three-day festival filled with hundreds of animatronic dinosaurs. Curated by Dubstep legend Excision himself, this year boasts Lost Lands's craziest (and largest) lineup yet!
We wanted to share ten exhilarating mixes from some of our favorite artists on this year's lineup. Which day are you most excited for?
*Edited with set times and stages*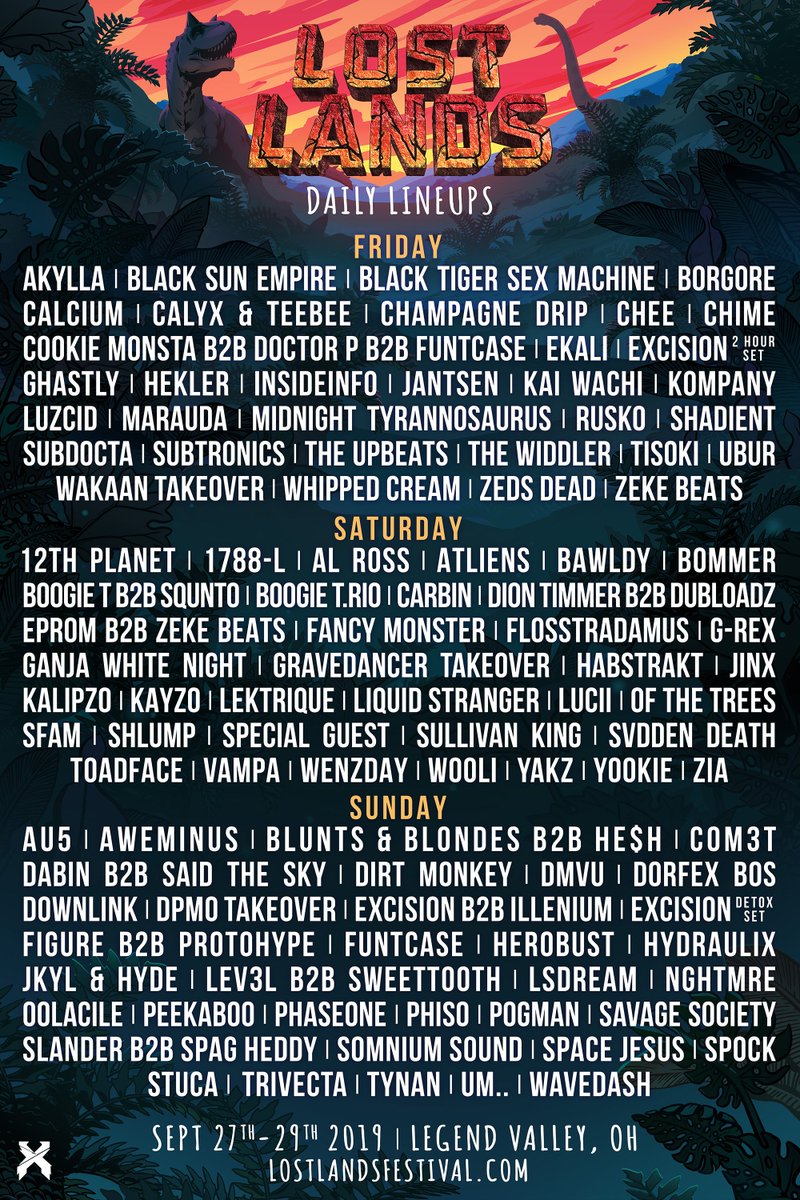 Subtronics
Friday 5pm – Prehistoric Paradox
Subtronics and his massive fan base, the Cyclops Army, are going to show out for Lost Lands 2019. His Riddim style dubstep always leaves the crowd in shambles, with double, triple, and quadruple drops amass. We're not even ready for this one, this man is always cooking up fresh IDs and new mash-ups for his already jam-packed sets.
Peekaboo
Sunday 6:55pm – Prehistoric Paradox
Peekaboo has gone viral as one of the biggest names in bass music over the past year. We had the chance to sit down with him at Baltimore's Moonrise Festival — check out what he had to say about his upcoming Lost Lands set here!
G-Rex
*Edit* G-Rex has two sets. Friday Night at 2:30am is a b2b with Tynan. Saturday, he is playing the Wompy Woods stage at 2pm for a solo set.
G-Rex is performing on this year's Sound Camps, which will occur after the main festival commences. New for 2019, the Sound Camps are going to be inside the festival grounds, as opposed to in the actual campgrounds in past years. G-Rex's track with Peekaboo, "Babatunde", was one of the most played tracks at Lost Lands last year, as well as nationwide. The killer remix EP featured Dirt Monkey, Tynan, Um.. and more. He continued on to stand out as one of the ones to watch, crushing non-stop opening performances on Liquid Stranger's Infinity Tour. Keep an eye out for G-Rex to blow minds with his massive artillery of deep bass bangers. This set is one hundred percent can't miss.
Jantsen
Friday 3:30 – Prehistoric Paradox
Jantsen was one of the seven spotlight artists for Excision's West Coast Dubstep single-stage festival–held at the breathtaking Gorge Ampitheatre in Washington state. A legend in his own lane, Jantsen has been on the scene since 2007 and has literally dozens of collaborations with Bassnectar. He was just announced as one of the many openers for Ganja White Night's The One Tour, alongside fellow Lost Lands performers Boogie T and SubDocta. This mix showcases tons of unreleased tunes from Jantsen as well as some classic remixes from him and some friends. If you are a fan of that OG sound, Jantsen's for you. 
Chime
Friday Late Night 2am – Raptor Alley Sound Camps
Watch out Sound Camps, we have another performer who is gonna leave you in shambles. Chime, a little less tenured but just as heavy-hitting, was also included in Excision's Bass Canyon Ones To Watch b2b. After crushing the mainstage slot at Bass Canyon, the English melodic Dubstep producer has a solo set at Lost Lands. With how he shut down the sound camps last year, this one is can't miss.
LSDream 
Sunday 3pm – Prehistoric Paradox
LSDream, formerly known to the dance music world as Brillz, went through a rebrand back in 2017. His new sounds, visuals, and transparency with his ever-growing fanbase are all so refreshing and raw. After his Renegades of Light album that dropped earlier this year, he has definitely been one of our favorite acts of 2019. We're amped to see what he's gonna bring to his mainstage Lost Lands performance!
Wooli 
Saturday 4pm – Prehistoric Paradox
Another artist that we had the pleasure of recently interviewing, Wooli is another name that is blowing up very quickly. With his own headlining nationwide tour and a brand new collab EP with Excision just dropped last week, catching this show is a must for any and all headbangers — whether you're feeling the heavy stuff, the emotional, melodic stuff, or just are going for some Psytrance.
Hekler 
Friday 3pm – Prehistoric Paradox
Hekler's sets do not disappoint. This kid has torn down so many festival stages this summer it's insane. His What The Hek EP, through esteemed Dubstep imprint Never Say Die, was one of our favorite projects of 2018. We can't wait to see him shine at Lost Lands!
Kompany & Sullivan King
Friday 5:30pm – Wompy Woods 
Saturday 5pm – Prehistoric Paradox 
Both of these sets should not be taken for granted. These two artists are going to be crushing their respective slots, as of now they are both solo sets. Between the two of them, they have tons of hits under their belt. Kompany and Sully came together to craft this mix to prepare us for Bass Canyon, Lost Lands, and the dozens of other festivals that them and the other Excision co-signs have been dominating summer 2019.
Excision 
Friday 10pm – @ Prehistoric Paradox
Sunday 6pm – Detox Set @ Prehistoric Paradox
               9:45pm – b2b w/ Illenium @ Prehistoric Paradox
Lost Lands being Excision's festival, it's hard not to include him on this prep list. The renowned Dubstep producer used to do his annual mixes partnered with Shambhala festival. With not one, but two Dubstep festivals of his own under his name, it was only right Excision provided the official soundtrack for your car-ride to Lost Lands.
We've had the chance to chat with tons of these awesome producer's who are featured on this massive list of Dubstep pros — Figure, Kayzo, Wooli & Peekaboo, Subdocta, sfam, Toadface — head to our interview page to check them out or just click on the artist's name! See you all at Lost Lands ❤